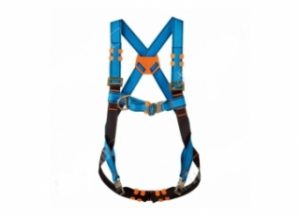 Safety first with our range of Fall Protection Equipment
HT 31
– Complies with Standard EN 361
– 1 dorsal "Forged D clip"
– 4 adjustment points
– Sub-pelvic strap
When working at heights, it is critical to take all reasonable precautions to keep personnel and employees safe at work. All safety precautions must be followed. Providing the necessary safety equipment and ensuring that it operates consistently and is in good condition all the time.
At Sharkey's we offer a variety of Safety Harnesses to meet everyone's requirements and our commitment to offering harnesses of high quality to ensure the correct equipment for every application.
When operating safety harnesses it's imperative all equipment is checked at regular intervals Fall prevention, restraint techniques, recovery and rescue, confined spaces, and work positioning for various procedures are all applications for working at heights. We provide a safety harness for all applications, each one has been inspected and has passed appropriate quality standards.
Applications include fall prevention, restraint techniques, recovery and rescue, confined spaces, and work placement for different procedures. We provide a variety of safety harness items that have been verified to meet applicable quality standards.
We offer high-quality harnesses that are coated, corrosion-resistant hardware and water- and abrasion-resistant webbing. You can put it on quickly and easily due to the revolutionary triangular design that gives it its shape. It is tangle-free and ready to wear when you pick it up. The pad also has a web-spreading design that spreads the webbing on the shoulder straps to protect your neck from abrasion. The most popular line of full-body fall arrest harnesses has undergone additional development using cutting-edge engineering and manufacturing techniques. 
These authorised value harnesses are designed for comfort, safety, and functionality. The shape of the safety harness is provided by the airy back mesh panel, which makes wearing easier and reduces tangling.
Please get in touch with us if you require further information.