Roping & Other Elevator Services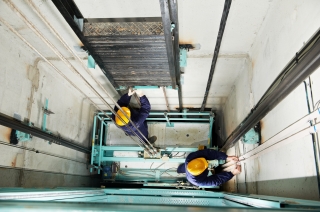 Products and Services
Supply & Fit Elevator Ropes
Replacement Sheaves / Divertors
Supplementary / LG Testing of in Service Lifts
Supply and Installation of Compensation Flexes and Ropes
All supervisory personnel are experienced time served lift engineers with a minimum of 20 years in the industry. All field personnel are given in house training in lifting and tackling, rope identification, rope terminations, use of PPE and Health and Safety. We also have CSCS and Passport to Safety Clearance.
Prior to commencing any work, Supervisory personnel will conduct a site survey producing a risk assessment, method statement and competitive quotation. We employ our own health and safety officer to ensure our safety climate is maintained throughout our business protecting you and your customers.
Our people are the Company's most valuable asset. We conduct regular audits to ensure our workforce has the best equipment, training and support to fulfil their role on site.
Our field personnel are strategically placed to provide national coverage from our national service centre.
Our Service Promise
We provide a full site survey and risk assessment carried out by qualified and experienced lift personnel.
We provide a specialist who considers your problems and provides you with the solution.
We will ensure all work is completed to your requirements with certification that the equipment has been fully installed and tested.
At Sharkey Lifting we pride ourselves on carrying out your work to the highest standards and most of all safely.
At Sharkey Lifting we provide full technical support with in-depth product knowledge you can only get from using the product manufacturer.
This allows you to place one call for a complete service that you can be confident is in professional hands.
Supplementary and LG Testing
We now offer a full Supplementary Test Service as well as our original LG testing using past and present SAFED guidelines.
Full Methodology of tests for both methods, Risk Assessments carried out before certain tests which could be detrimental to the lift or persons.
Tests carried out on Traction and Hydraulic Lifts. Our testers have completed the NVQ 4 Service Testers accreditation to provide the nationally recognised qualifications in the area of testing in-service lifts.
All testing is carried out using under licence, the TUV ADIASYSTEM, for Non-destructive inspections up to EN: 81. If weights are required for certain tests then they will be used. Reports produced electronically.
TUV and NVQ4 accredited Test Supervisor for this service based in the UK, Monitoring the Results and our field test engineers.
Fixed Costs for ADIA tests as there is no need for test weights.
Other Services
Overspeed governor calibration
carried out on site using TUV type testing equipment.
On-site Technical Inspection
of traction and associated suspension problems regardless of equipment type.
Rope Training Seminars
for all levels of the industry that can be carried out at any of our service centres or at a venue of your choice.